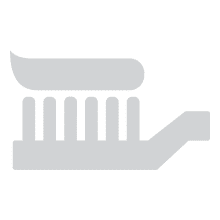 General Dentistry
Good dental hygiene promotes overall wellness; Dental health begins with healthy gums and underlying bone structure. We customize treatment to meet patients' periodontal (gums and bone) needs.
Our highly trained hygienists provide thorough cleanings while ensuring our patients' comfort. Our reviews consistently reflect how much our patients love and appreciate the hygienists.
Our approach is to educate our patients and make them active participants in the treatment process. We provide a thorough diagnosis and treatment plan to ensure success. 
We use digital x-rays, visual examinations, digital cameras, digital models, comprehensive periodontal exams, oral cancer screenings, and esthetic evaluations to develop the proper diagnosis and treatment plans. 

Our digital x-rays deliver 90% less radiation to patients than conventional x-rays and are part of our environmentally friendly facility. 

The office uses fewer chemicals and less paper, and constantly evaluates and implements new ways to help the environment.
Northern Westchester Dental Care uses the latest, strongest, and most esthetic material available to match the patient's needs. 
We use materials such as lithium disilicate or eMax crowns and Zirconia crowns.

A crown or bridge typically takes one or two visits to complete. If the procedure is completed in one visit, there is no need for a temporary crown or a return to cement it. 

We use different local anesthetics depending on the individual and their needs. 

The tooth is shaped to a specific standard so that the final crown fits best. 
Northern Westchester Dental Care provides CEREC digital scanning and milling technology. We are one of few practices in Westchester County that can digitally scan and fabricate porcelain crowns and bridges in a single visit.
Fillings, Inlays, & Outlays
The latest dental materials and techniques allow for beautiful, long-lasting fillings. Northern Westchester Dental Care is a mercury-free practice that uses composite resin and porcelain to restore teeth to their natural color and strength.
These restorations allow for the most conservative, strongest, and esthetic results.